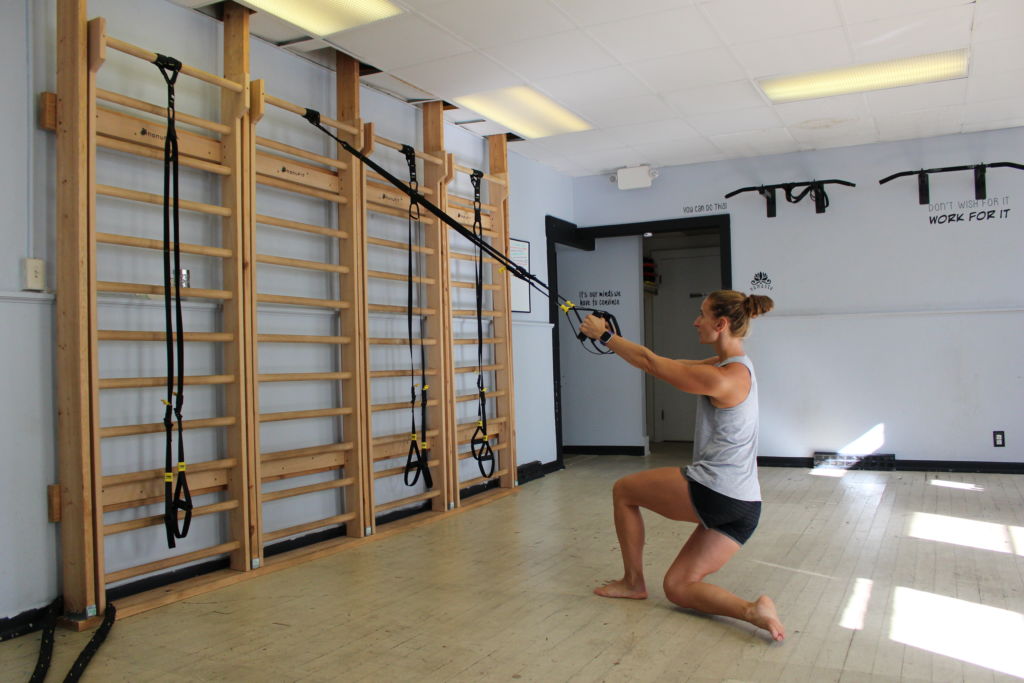 Please arrive 5-10 minutes before class start time. Remember to bring a mat and water bottle, towel if needed, you are going to sweat!
---
U-Fit
Not sure where to start? U-Fit is a team effort to kickstart your fitness goals. This is a beginner class where we focus on the basics of fitness and get you moving. U-Fit is a circuit sytle workout to help you reach your maximum potential. All levels are welcome!
---
Beginner TRX
Start with this simple TRX workout as you increase total-body flexibility, promote mobility and stability and develop core strength. This class focuses on technique, flexibility, balance, and strength by developing basic foundational exercises through easy to follow progressions.
---
Cardio TRX
Burn it up with this continuous strength training and cardio moves designed to push your physical limits through powerful moves. Using TRX trainers, kettlebells, free weights, nontraditional movements and cardio combinations you can test your limits.
---
Total Body Burn
Get a full body workout and melt away calories. Total Body Burn will keep you moving to maximize your full potential for 45 minutes. This class will get and keep your heart up and will burn fat in less time! All fitness level are welcome, we will taylor to your level.
---
Cardio Core Burn
Turn it up, we will focus on burning those calories as you focus on increasing your cardio vascular stamina and building your core. Get ready to work and sweat it out. All levels are welcome, bring mat and water.
---
Hot Power Yoga
Warm up the body with this vinyasa style hot power yoga. We will focus on moving with our breath while also focusing on balancing, core work, hip openers and inversions accompanied by music, encouraging mindful focus and detoxification. This class is designed for all levels.
---
HIIT
Get a full body workout and melt away calories with this High Intense Interval Training class. HIIT will keep your heartrate up for 30 minutes. This class will challenge you, push you and burn fat in less time! All fitness levels are welcome, we will tailor to your level.
---
Core Strength & Flex
Focuses heavily on your own body weight to increase your strength, core and gain more flexibility. We concentrate on strength moves, gymnastics basics, like learning a handstand, and increase overall flexibility. Movement through this class will develop stronger shoulders, legs, core and mobility. Get out of your comfort zone and move with purpose! Bring mat and water, all levels welcome!
---
Body Recovery & Stretch
Your body needs to recovery from your weeks worth of work and workouts. Take this time to stretch out the body, recovery and refresh for the day. Jessi will also help deepen each stretch to increase flexibility and mobility. Get ready to loosen up and relax. All levels are welcome, bring mat and water.
---
Power Barre
This is a hybrid class fusing methods of barre, yoga, and pilates together for one amazing workout. Elements of this class include sculpting legs, arms and core. Fusing these methods of fitness you will build strength & gain flexibility. Get ready to embrace the shake, all levels of fitness welcome.
---
Sunrise Yoga
This energizing morning practice is a great way to greet the sun and start your day. This class will be focused on breathing, sun-salutations, movement through a flow of postures and stretching. This class will be suitable for all levels, as modifications will be offered for those new to the practice.
---
Hot Recovery Yoga
Restore your muscles, gain flexibility, and destress during hot recovery yoga. We will move through traditional yoga poses at a slower pace and hold longer to help restore and stretch the muscles. This warm, all levels class weaves together breath and yoga at a leisurely pace than our Hot Power Yoga. This class takes place in a hot space to aid detoxification, stimulate the glandular systems and challenge you cardiovascular system. This class is designed for all levels.
---
Mini Workouts-30 Minutes
Mini Workouts target a specific area of your body. JU offers Mini Workouts to target arms, legs, core, cardio and flexibility. Get your quick workout in and show some love to your body. All levels welcome.
---
Open Workout
Open workout is designed for clients to come in and get a pre-written workout done at their convenience in a 90 minute period. Two workouts will be written for clients to come in and complete.
---